A key advantage of Sharetree is the ability to supply of custom chambers to solve complex environmental testing issues.
Using UK based, in-house design and manufacturing capability, Sharetree can provide cost-effective solutions to most challenges.
Key Advantages
SIMPLEtouch
Touch Screen Programmer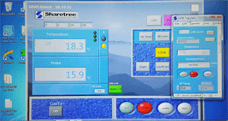 Easy set-up and monitoring of chamber conditions, simplifies programming of complex cycles...
read more