Environmental chambers suitable for both constant temperature/humidity and temperature/humidity cycling applications.
Special attention has been given to achieving an evenly distributed air-flow to ensure consistent conditions throughout the chamber volume and therefore more meaningful test results.
Standard chambers are available with two temperature ranges, using single stage or cascade cooling plant, and with the choice to increase ramp rates through boost heating and cooling options.
The SIMPLEtouch touch-screen programmer makes it easy to set-up and monitor the chamber conditions, and is particularly useful for simplifying the programming of complex cycles.The chambers are attractively styled to blend in with modern production and laboratory equipment and available sizes cover a volume range from 216 to 1500 litres.
Typical Applications
Temperature / Humidity Testing
Fixed and cyclic conditions
Testing of Materials, Components & Assemblies
Electronics, Automotive and Aerospace
Internal
Volumes
Temperature
Ranges
Ramp
Rates
Humidity
Airflow
From 200 to 1500 lts
From +180℃ to -70℃ (+250℃ versions available)
From 2℃/min to 15℃/min (loaded)
Humidity optional - Areas A, B & C available.
Horizontal and lamina
Key Advantages
Modern attractive styling
SIMPLEtouch programmer
216 to 1500 litre capacity
Wide temperature and humidity ranges
High performance even under load
Capacitive humidity probe
Mechanical cooling
Robust Reliable construction
Extensive range of standard options
Suitable for testing to most standard specifications (e.g. IEC 60068 –3-56, etc)
SIMPLEtouch
Touch Screen Programmer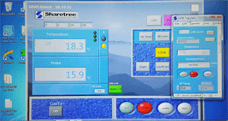 Easy set-up and monitoring of chamber conditions, simplifies programming of complex cycles... read more