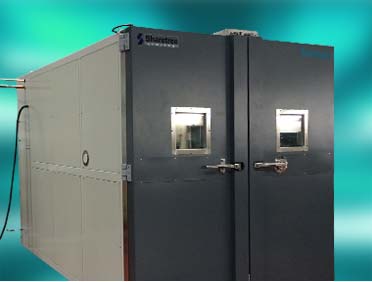 Wide range of single-piece or modular Walk-in or Drive-in Rooms (WIR/DIR), designed to suit your specific application.
Single piece construction is available up to 30,000 ltrs and allows for much higher temperature and/or humidity ranges (+150°C to -70°C).
Modular construction allows for almost any size room, subject to available space and is quickly constructed on-site.
Each Room comes complete with a full safety system including internal door release, EPO and lighting. The Rooms can be fitted out to suit the customer requirements including mains sockets, bulkhead pressure lines and high load floors.
Typical Applications
Automotive testing
Temperature / Humidity cycling
Test Houses with varied testing requirements
Oil & Gas, Automotive and Aerospace for large loads
Internal
Volumes
Temperature
Ranges
Ramp
Rates
Humidity
Airflow
8000 ltrs +
+150°C to -70°C (modular version +80°C maximum)
1 to 5°C/min
Optional – Areas A, B & C available
Circular (ducted, if required)
Key Advantages
High performance even under load
Large capacity interior
Easy Access
Wide temperature and humidity ranges
Many options
Suitable for a large range of test standard (IEC 60068, etc)
Custom versions available
SIMPLEtouch
Touch Screen Programmer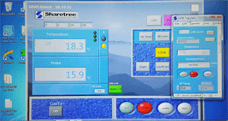 Easy set-up and monitoring of chamber conditions, simplifies programming of complex cycles... read more